Just love this! It's Hoo Are You time!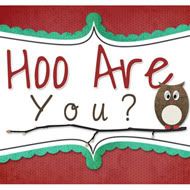 1. What is your Zodiac sign?
Not really sure. I'm between Saggitarius and Scorpio cos my birthday is on 22 November!!!
2. Name 3 things that are always in your purse besides your wallet.
Let's see. I'll have my mobile phone, lipstick and my little notebook to write things in. Usually I'll have an idea and quickly write it down so that I won't forget. These ideas are either work or crafty related :-)
3. Which magazines do you look at the most?
Hmmm..... crafty magazines at the library but no particular one I look at the most.
4. Do you pluck or get your eyebrows waxed?
I used to pluck them but I would tear. My friend introduced me to shaving them! So far so good!
5. How often do you go grocery shopping?
We go once a week at our local wet market and the supermarket. My hubby shops for fish, because he's good at choosing the fresh fish and he knows which fish is what and whether it is from the sea or it is freshwater fish - I just know the difference between salmon (pink) and non-pink fish!! I shop for the other stuff :-)