I have been reading this great book about changing behaviour - why we do what we do, temptation (have you ever chosen a burger over a salad?), the mindless choices we make, or how we've been nudged into saving for retirement (mandatory in Singapore). Or, why a lot of us like to recycle (or refashion!), save energy or not litter the streets.
Anyway, I turned to page 75 of Nudge where it talks about when we need to be nudged and the authors wrote "Nearly everyone over the age of six can tie shoelaces, play a respectable game of tic-tac-toe, and spell the word cat. But only a few of us can tie a decent bow tie, play a masterly game of chess, or spell (much less pronounce) the name of the psychologist Mihaly Csikszentmihayli." It was then I realised, hey, my son is going on seven and he can't do shoelaces!!! Plus he doesn't have a pair of decent shoes with laces (except for his football boots which have laces a mile long. Not for training small fingers!)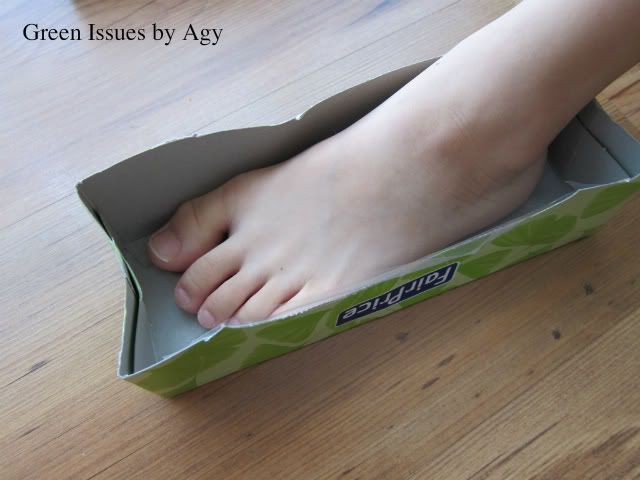 The box will fit a child's foot. I think up to the age of 8
going by what I saw. Punch three holes on each side
with a ball point and lace'em up!
Time to try out the laces and practise, practise, practise!!!
Linking up to:
http://www.theimaginationtree.com/